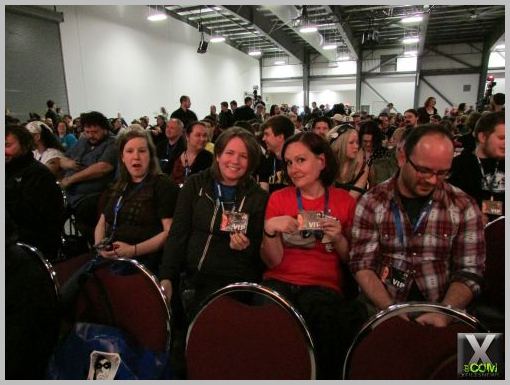 The weekend is over and now the post-con depression takes over. Ottawa ComicCon was a great success and everyone seemed to have a great time. XFN was in attendance from start to finish every day reporting on all things X-Files. Cell service and internet connection there were a little bit of a challenge, but we updated our Twitter every chance we got. 
Gillian Anderson was in attendance Saturday and Sunday only. On Friday, we were told she had arrived early and would be able to sign autographs later in the day, but it was canceled last minute. There were tons of X-Philes on site, even on Friday, and we were able to snap a few shots of several people sporting their X-Files t-shirts and even some hardcore fans in Mulder and Scully cosplay. There was even a Skinner!
On Saturday, Gillian was signing autographs, posing for photo sessions, and interacting with fans all day. Her line was long all day and XFN was able to talk to several fans after their encounter with the woman behind their favorite FBI agent. Our Facebook has photos from Day 1, Day 2, Day 3, and Gillian's panel. If you were one of the fans we chatted with, head over there and look for yourself.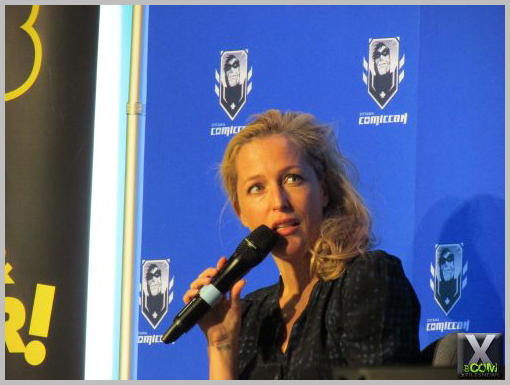 Gillian's panel was on Sunday at 10:15AM, but there were people lining up for it as early as 7AM! By 9:30AM, the room was almost filled with very little seats left. The panel started at exactly 10:15AM, but before Gillian took stage, the moderator advised the audience that only non-flash photography was allowed. There was no recording of any kind. Gillian was introduced and the crowd went wild when she walked on stage. Gillian talked about the fact that someone had pointed out to her that she was wearing the same shirt she wore at a talk show recently. She then mentioned that she's doing several cons too close together and that she was wearing the same clothes, but that she has now decided she is going to be wearing one single outfit for all future comicons. Gillian also mentioned she is very excited that The Fall is about to start soon in the UK and at the end of the month in the US.
Before the Q&A part of the panel started, Gillian picked up a Scully blockhead doll and said she was auctioning it at the end of the panel and would write anything they wanted on it. The first fan to ask a question mentioned that Gillian has come to the right place because there is a Mulder and Scully Avenue in Ottawa. Gillian said she had been sent a photograph of it at some point and that she had forgotten about it, but thought it was really cool. Another fan asked about how she has been very outspoken about how the media misinterprets certain comments, and how she feels about the double standards of how male celebrities and female celebrities are approached by this. Gillian said it's an odd construct that you can have conversations with complete strangers like you're talking to good friends. "The whole concept of interviews is a very weird thing. It's not made easier by the fact that women are portrayed in the articles in a completely different way than men. I don't even know where to begin to do something about that. We participate in the same things that we're victims of, but we don't realize it."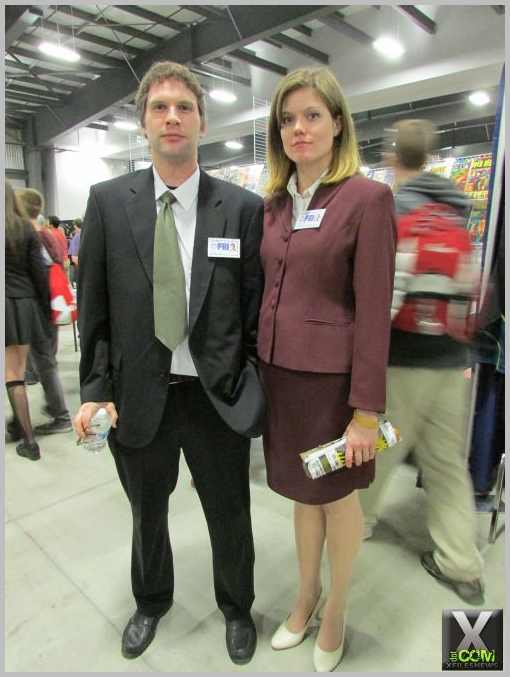 The next fan to ask a question was dressed as one of the knights from Monty Python and Gillian recognized it. He asked if she believed in aliens and what a first contact situation would be like? Gillian joked and said "It's possible that I'm having that contact right now!" She asked the fan to take his mask off and said there are people we pass on the street and you think they could be an alien but she doesn't really know much about it.
The next question was if she was ever interested in doing any more work with David Duchovny, like a third X-Files movie or maybe a guest appearance on Californication. "Here's what I've come up with which has already been rejected. Hank comes across a stripper who's impersonating Scully. He won't go for it!" She said she hopes there is another movie but unfortunately it's not in her hands. Another fan asked her about her experience working with the band HAL on the song 'Extremis' and if she would ever consider doing that kind of work again. She mentioned it was a bizzare situation and she doesn't know how that came about. "The band HAL approached me and I said well I can't really sing, and they said what about a spoken word thing. And I said okay. And then they said there would be a video and I said okay. And they said they might have you walking around being voyeuristic. And I said okay. And then it went to number one."
A fan came up to the microphone to wish her a Happy Mother's Day and Gillian mentioned she Skyped with her boys that morning, but they wanted nothing to do with her. Another fan asked her if there were any writers, actors or directors she was hoping to still work with one day and what her dream role is as an actor. Gillian said there are many but the first on her list is Philip Seymor Hoffman. "I would love to work with Meryl Streep before I die." She paused for a moment to think about her dream role and said: "Maybe Iron Man." Another fan asked her if she believed in anything other than ghosts and aliens and she mentioned she is a sucker for all that stuff and she will believe anything. "I also believe in Santa Claus."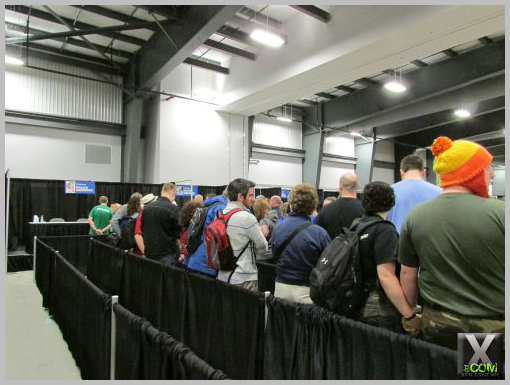 The next fan asked her what she would say to young girls who need to know that what is important in life is not what is under your clothes. Gillian said: "Scully was a character and even though it was me playing that character, a lot of what people respond to in terms of a strong female is what they're seeing through Scully. Initially. And then overtime, as I started to realize I had my own voice, and my own personality, likes and dislikes, I had gotten more free in expressing those things in a public way." She said it is important to be who you are and not try to be anything other than who you are. "What anybody else thinks, not only is it none of my business, but I've learned I don't care. And within that it's so much power because it means that my mind is with me and not with you. It's not wasting its time in your head. It's just this is who I am."
Someone congratulated her on the new NBC show picked up entitled Crisis and asked her to talk about it. Gillian said she just now learned of the name and that she plays a professional CEO of a national company whose daughter has been kidnapped. She said that the cross section is government. FBI. Parents. High School students. She said her involvement is mainly due to good timing and good writing because she hasn't really read that many pilots recently. Gillian mentioned working with Johnny English Reborn and that it was a lot of fun and she liked the film and was glad to work with Rowan Atkinson. She was asked about working in The Mighty Celt and she said it was the only time she has done a Northern Ireland accent and she really enjoyed the challenge.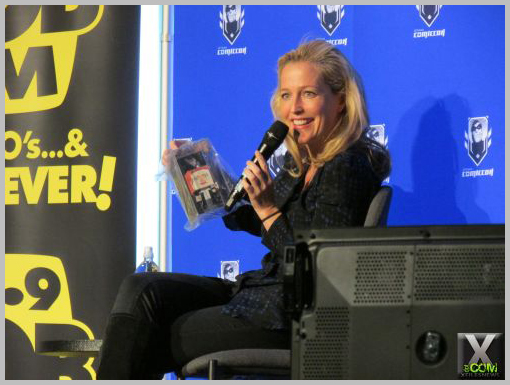 Someone brought up the episode "Humbug" and asked if she remembered eating a live cricket. Gillian said she actually does remember that. They asked if there was ever a moment during The X-Files when she realized it was a cult phenomenon. Gillian said it was always too much to take in while they were shooting but because the show was shot in Vancouver, they didn't have any paparatzi around and there was too much going on so it wasn't until many years later that she realized what happened. "It was really great to be a part of that. It's really only hit me in retrospect. The degree to which the series had the impact that it had."
There was another XF3 question about if she was interested in reuniting Mulder and Scully with William. "As far as I know from conversations we have had, that's kind of necessary and probably very likely. How old would he be?" Someone yells out an answer and Gillian said: "Good answer! She said it depends on when you make it!" The next question was about Gillian's greatest achievements and she said there is a countdown and she has four minutes and twenty seconds to talk about her greatest achievements. She answered her children and her BBC work. She mentioned The Fall again.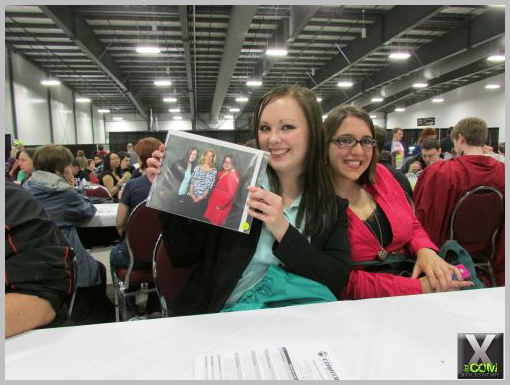 Gillian mentioned this was the last question and it needed to be quick because they needed to auction the blockhead. The question was if Gillian and David Duchovny were at a coffee shop and talking about the aliens that have just landed and what their conversation would be when the world is about to end. Gillian says: "You know what, the world is about to end why don't we just have sex?" The fan asked her what she would say if he said no and Gillian replied back: "He better fucking say yes!" The moderator came back on stage and they started the auction at $200. Gillian said all the proceeds go to her charity SA-YES. In the middle of the auction, Gillian mentioned she did something similar at Calgary Expo and she included a kiss and that she would do the same here. The blockhead goes for $850 in the end. Gillian got off stage and went behind the curtains so the fan could collect their prize and the volunteers had to clear the room. The seating capacity of the room where the panel was held was 2,300. Every seat was occupied but there was a great amount of people standing in the back of the hall.
Gillian had a few more autograph signings and photo sessions for the rest of the day and left at about 4PM. There were still tons of X-Files fans around still shopping for merchandise. The Con was officially over at 5PM.