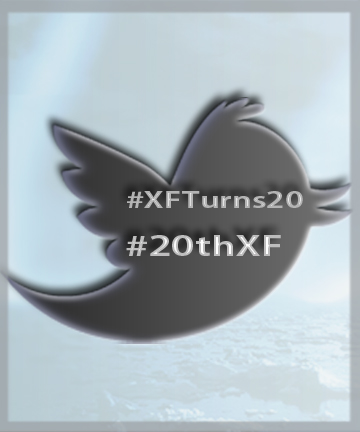 On September 10th, 1993 The X-Files premiered at 9pm eastern on the Fox Network and kicked off a wild and unimaginably successful journey that would turn it into a worldwide phenomenon. The impact of that day on popular culture has not been matched by a television show since. The X-Files paved the way for theatrical storytelling on the silver screen and created an environment where stories that push the envelope could not only start but also thrive on television. It became the golden standard, and we miss it terribly.
In celebration of all The X-Files is and was, we're teaming up with our friends at The X-Files 3 in 2012 on Facebook, Aussie X-Files Fans on Facebook, Beyond The Sea IT, X-Files Memories, Area 42, Expedientes X ES, Grupo The X-FIles Chile, Pinoy X-Philes and many other local communities, for an ambitious new Tweet-A-Thon. This also serves as an open invitation for all other fan communities across the web to join us on this historic day because no one gets there alone. Just say the word and your group will be added to the list of party goers!
Join us on Tuesday, September 10th to show your love for what brought us all together as fans, friends, and family. It will be a day of reminiscing, celebrating, and showing 20th Century Fox that their 20-year fanbase, like the show, has become a worldwide phenomenon. 
The Tweet-A-Thon will run from the moment the first time zone (New Zealand) hits midnight on September 10th until the last time zone (Hawaii) hits midnight on September 11th. So wherever you are in the world, join us in tweeting for The X-Files 20th Anniversary! You can also tweet directly to Fox (@20thcenturyfox), too. Check out the guidelines after the jump to help us make the biggest impact possible.
The Hashtags
If you were with us during our last Twitter event, this will be familiar to you. If not, grab a Coke, Pepsi, or saline IV and pay attention! In order to have the best possible chance to trend, we will be changing hashtags. Hashtags frequently trend if they are new and haven't been used on Twitter yet. So throughout the day, when not in the trend window (discussed below), we'll be using the hashtag #XFTurns20.
In addition, we will be holding ONE separate trending window which will take place at 9pm eastern time in celebration of 20 years to the minute of the Pilot. The hashtag to begin using at 9pm eastern is #20thXF. For timezone help, please refer to the chart that we will post separately. Do NOT tweet any of the specific hashtags before the correct time, as this will reduce their effectiveness for trending. Also note that Twitter only counts one hashtag per tweet so ONLY use one. It's fine to use other keywords like Mulder, or Scully, but do not give them a #.
Your Twitter Account
If you have a private account, be sure you unlock the account and change your tweets to public, otherwise your tweets will not be counted towards trending. You can lock it again after the event. You may also want to have an extra Twitter account with the same settings in case you go over your tweet limit and are unable to continue.
Also know that rumor has it you need at least 10 followers for your tweets to count towards trends, so make sure you get other philes to follow any of your new accounts!
Tweets and Retweets
Retweets are the easiest way to help out the trending effort. Just search for the hashtag you are trying to trend at that time and click retweet. Also, don't use any swearing or cursing in your tweets or they will NOT count towards trending. For those of you who cannot tweet live, you can pre-schedule your tweets using a site like FutureTweets. So Philes, we've done our research. We've googled like Scully would. And these guidelines should help us make the biggest impact.
The X-Files has given us so much, and this is our way to give back. Let's give the show, the creators, the cast and crew, and all the fans a 24-hour, worldwide party to be remembered. After all, they had us at "The following story is inspired by actual documented accounts."