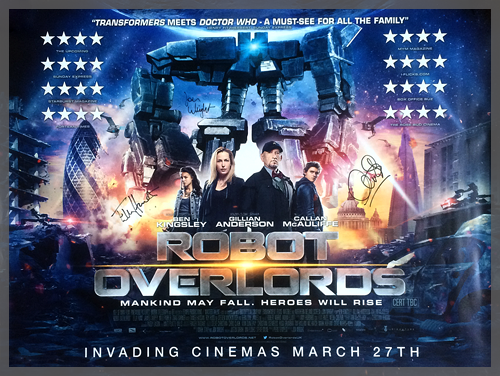 To celebrate today's release of Robot Overlords starring Gillian Anderson, we have a signed poster to give away. Read below to find out what we think of the film, and how to win.
Robot Overlords is a British film filmed in Northern Ireland that is set three years after alien robots invaded and conquered the Earth. Humans are confined to their homes and monitored by implants that sit behind their ears. Stepping outside activates the implant and brings robot sentries racing to your location who give a countdown. Anyone not inside when the sentry reaches zero is instantly vaporised.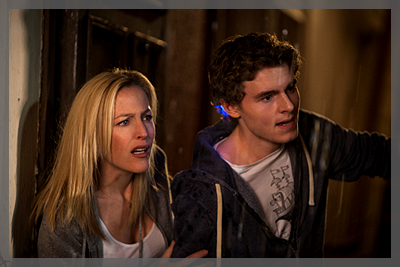 Gillian Anderson plays Kate, a mother and former English teacher who is now imprisoned along with her son, and several other children from the neighbourhood inside a cramped home. It is these kids who accidentally discover how to switch off their implants. At first this is just a bit of fun that allows them to sneak outside after dark and steal chocolate & candy from derelict local stores, however the leader of the group - Kate's son Shaun - soon realises the potential they have. A freak series of occurrences allows him to control the robots himself and soon he finds himself leading a bunch of survivors out of a mission to find his missing father and save the planet.
I wasn't sure what to expect from Robot Overlords, and it wasn't at all what I thought it was going to be. While the film has been marketed as yet another sci-fi invasion movie it is actually aimed at a young audience and has far more in common with The Goonies than Transformers. The kids are the stars here with many of the key cast still in their teens including Callan McAuliffe (The Great Gatsby) and Ella Hunt (Les Miserables). The film fits into the kids adventure genre that houses films such as Jumanji, E.T. and Hook. It's a genre that's been quiet over recent years probably to avoid competing against the behemoth Harry Potter and Marvel franchises but which could be picking up again with movies like Goosebumps also coming out this year.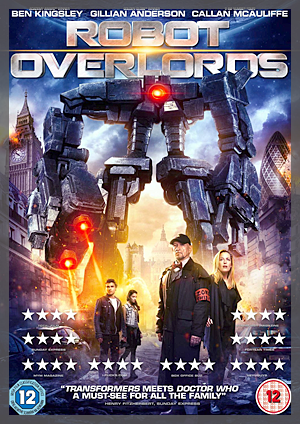 The film itself is underwhelming in the way kids films can often come across for adults, however it has an awful lot going for it. The special effects are very impressive, especially considering the tiny budget of just $21 million (for comparison, Avengers: Age of Ultron had a budget of almost $280 million). The robots themselves are imposing and scary and never laughable as they can often be in low-budget films, and the villains are truly scary. The Robot-Human liaison is a humanoid robot known only as Mediator 452 who sits right inside the uncanny valley making him thoroughly freaky, while Ben Kingsley's character Robin Smythe - an ex-headteacher/principal who now collaborates with the robots as a Zone Chief to his own advantage - will make adult viewers uncomfortable as he makes increasingly insideous advances towards an unwilling Gillian Anderson. Gillian herself holds her own, both against Kingsley's Smythe and against the robots. Although the kids are the stars she gets plenty of screen time including dramatically racing a horse across a beach and comically sneaking out of a castle in which she is being held simply by using her "mom" voice.
If you're interested in watching Robot Overlords, the film is out today on DVD and Blu-Ray in the UK and Ireland, and tomorrow in the USA.
Want to win a giant film poster signed by movie star Ella Hunt, writer Mark Stay, and director Jon Wright? Show us your best robot design.
Create your robot in any way you like (draw, paint, crochet, stick it together using junk), snap a photo and email it to us at: This email address is being protected from spambots. You need JavaScript enabled to view it. by 11.59pm PST on FRIDAY AUGUST 21ST. We'll share the best submissions once the contest has closed.