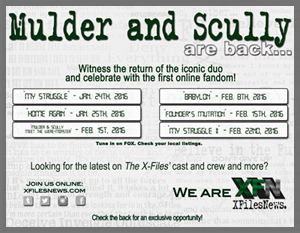 It is time for another X-Files contest! The screening of the first episode is about to start at NYCC and what better way to wait around than getting ready for a new contest? We've got tons of goodies from IDW Publishing and we want you to have them! So, what do you have to do? There are two ways of entering this contest.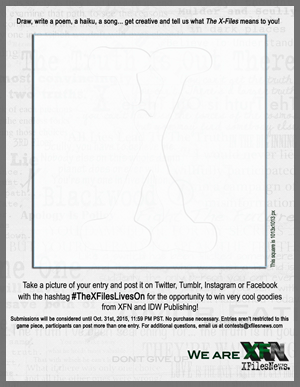 If you are present at NYCC this weekend, go find an XFN staff member and grab a postcard from them. Then the magic begins, get creative and tell us what The X-Files means to you. Draw or write whatever you want on it, it could be a poem, a song, a drawing, a doodle, a haiku. Give it back to one of our staffers on the NYCC floor (they are wearing XFN jackets!). If you are present at NYCC, you have until the end of the day tomorrow (Sunday, Oct. 11th) to submit your entries. 
Not at NYCC? No problem, you can still participate. Download the postcard from this article and do the same. Submit your entries via social media, Twitter, Tumblr, Facebook or Instagram, using the hashtag #TheXFilesLivesOn by October 31st, 2015 11:59PM PST. 
If you have any questions, email us at This email address is being protected from spambots. You need JavaScript enabled to view it.