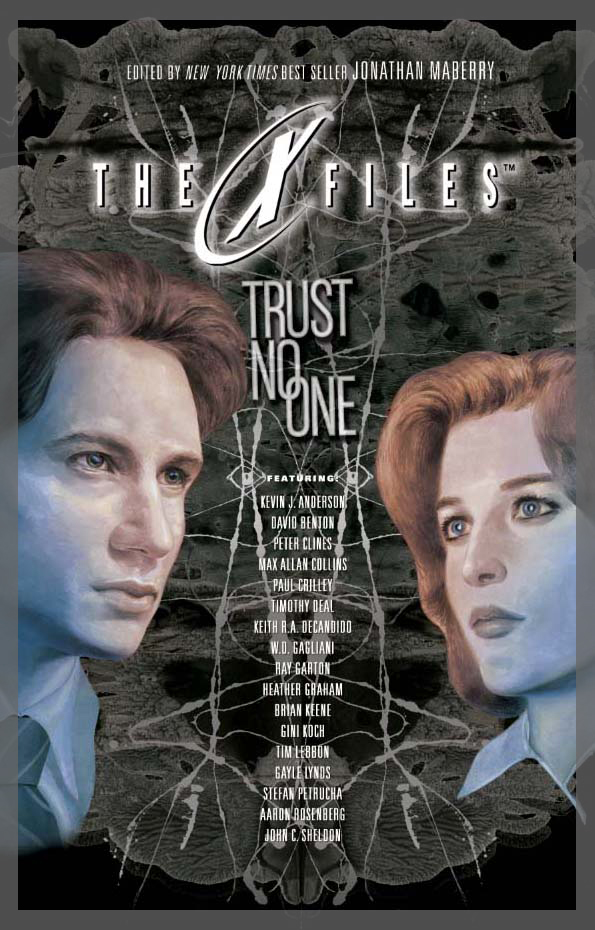 It's been a great year for fans of The X-Files and 2015 is shaping up to be an even better one. The Season 10 comics have been a smashing success and continue to roll on, Year Zero was fantastic and introduced us to two great new characters, the board game has finally been released, and now there are rumblings of an #XFilesRevival in the works. 
Could a Phile ask for anything more? Well of course they could! We are a demanding bunch of fans, after all. And so in April, IDW Publishing plans to deliver what promises to be a great addition to any X-Files collection.
Now available for pre-sale, The X-Files: Trust No One is shaping up to be a must-read for Philes looking for their next Mulder and Scully fix. Volume one features authors such as Kevin J. Anderson, Tim Lebbon, and Brian Keene, and is the first of three volumes currently planned. The collected stories will take place before, during, and up until the beginning of the Season 10 storyline, keeping in canon with the television series.
Knowing that the truth was out there, we asked New York Times Bestseller, Bram Stoker Award-winner, and editor of The X-files: Trust no One, Jonathan Maberry, what he could tell us about the upcoming anthology. Justin Eisinger, Senior Editor for Books at IDW also jumped in to answer one of our questions.
Hit the jump for our Q&A with Jonathan Maberry. 
XFN: Who came up with the idea for the book, and how did the project come together?
JONATHAN:The X-Files: Trust No One came about during a lunch meeting I had with IDW CEO, Ted Adams. I've been doing some projects for IDW – comics as well as prose anthologies such as my V-WARS series. Ted said that he'd been thinking about doing some X-Files anthologies and asked if I'd be interested in jumping in. I was very interested and told him that I could probably tap some heavy hitters to write stories for me. He gave me the nod and I jumped in as soon as I got home.
Now, taking this a bit deeper, IDW has a long history with the X-Files. They've been killing it with an official Season Ten comic book, written by Joe Harris. They also launched a really devious X-Files board game. Extending their reach through prose anthologies is a smart way to reach even more of the legions of X-Files fans, and to bring new readers into the world of Scully and Mulder.
XFN: How did you come up with the selection of writers for this book?
JONATHAN: Because I'm primarily a novelist of thrillers, horror and science fiction, I know a lot of top pros. Most of us write the strange stuff because we love the genre. I grew up with The Outer Limits, Night Gallery, UFO, The Invaders, Kolchak and other shows that were built around a darker tone. From chatting with my friends –and sharing panels with many of my colleagues—I've gotten a good sense of who is also a die-hard X-Files fan. I reached out to those writers who had a love of the show and who are superb writers. I also tapped some folks who have long-standing connections to TheX-Files, including Kevin J. Anderson who had a #1 international bestseller with his first X-Files novel. I tapped Brian Keene because he's one of the most unflinching horror writers in the business. I brought in thriller writers, mystery writers, horror writers, and science fiction writers –people who have earned deep respect among fans for their work. I told Ted that I could probably fill the lineup of Trust No One within twenty-four hours, but I was wrong. It took me three and a half hours to build my team. Yeah…there are a lot of writers out there who absolutely love TheX-Files.
XFN: Was Chris Carter involved creatively in the development of Trust No One?
JUSTIN(Justin Eisinger, Senior Editor, Books, IDW Publishing): Sadly, no. As you can imagine, Chris is a very busy guy! Though he's got ahold of the stories included in our first collection, and, well… I don't want to give too much away but he may still have a contribution to add to the mix!
XFN: Do the stories take place at any particular place in time? Do they observe the ongoing Season 10 by Joe Harris?
JONATHAN: The stories are set before the series, during the series, around the time of the movies and up to the start of the Season 10 comic. And Joe Harris will be writing a Season 10 prose story for one of the anthologies. The stories are vetted to make sure they stay in continuity.
XFN: Are there any plans for more books like this one?
JONATHAN: Absolutely. Right now I'm building three volumes, and we have some amazing writers lined up for the next couple of books, including Kelley Armstrong, Rachel Caine, Weston Ochse, David Liss, Bev Vincent, David Wolverton, Kendare Blake, Kami Garcia, Caitlin Kiernan, Hank Philippi Ryan, John Gilstrap, and many others. We even have a story by Dean Haglund who played Ringo Langley, one of the Lone Gunmen. The response to my call for contributors has resulted in my having to say 'not now' to over a hundred notable writers simply because we don't have room right now. It's crazy how many people –myself included—are nuts for the X-Files.
XFN: Were you a fan of the show before hand?
JONATHAN: I was a fan of the X-Files almost from the jump. The first show I saw was episode #3, Squeeze. It was the most interesting, compelling, intelligent and unflinching show I'd seen since the original Twilight Zone. Luckily a friend had taped the first two and I borrowed the tape the next day to watch them. From that point on I was hooked. Loved and collected the comics, collected the nonfiction season guides, read all the novels, and mourned when the show went off. Being able to edit anthologies of X-Files stories is pretty much a dream come true for me.
XFN: Describe the role you had and the experience curating these stories. What was the most rewarding and/or challenging part of it? Is there any other story of the production process worth sharing with our audience?
JONATHAN: When I began this project I discussed with my writers why they liked the show; I asked them what episodes were their favorites, and then challenged them to write stories that other fans would feel are true to the heart and soul of the show. But I also wanted them to make the stories their own. That's a tricky balancing act, but this is why I chose these particular writers. I wanted only the best, and I wanted writers who would rise to a challenge rather than shrink from it.
As a result, I got stories that surprised me, shocked me, disgusted me, and even occasionally scared the bejeezus out of me –and I'm a hard sell. I'm damn proud of this book and I know full well that my pride is borrowed since I only edited it –the writers brought serious, serious game.
XFN: What do you think the fans will take away from this new production?
JONATHAN: I fully believe the fans will react the way I did: feeling that any of these stories would have made a powerful and memorable episode of the TV show. I can't wait to talk with the fans after the books are out. I'm deeply invested in social media and love to geek out with my fellow X-Philes.
We can't wait to get our hands on a copy of this anthology. Our thanks go out to Jonathan Maberry for taking the time to answer our questions. The X-Files: Trust No One comes out on April 7th and is available for preorder now on Amazon.com.