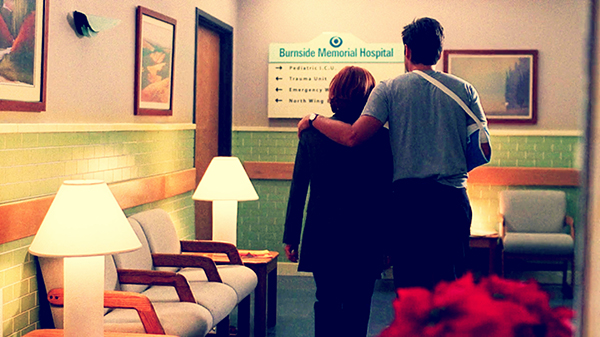 In 2015, XFilesNews reached 27,000 followers on Twitter, published more than 550 articles, wrote 88 reviews, featured 80 fan videos, held more than 10 contests, attended 4 conventions, went to 3 David Duchovny concerts, sent 2 reporters to Vancouver, and watched 1 new episode of The X-Files.
So before the clock strikes midnight at XFN headquarters, let's take a look back at one of the best years the fandom has ever seen. Click on the dates to read more about each event.
January 15th - FOX Broadcasting announces that they are in talks with Chris Carter, David Duchovny, and Gillian Anderson to bring back The X-Files for a short TV run.
March 24th - It's Official! The X-Files will return to television. Mulder and Scully are coming home!
March 24th - Details about the upcoming series slowly begin to emerge. 
March 25th - XFN snags the first major interivew with Chris Carter following the announcement. 
April 24th - Chris Carter hints that The X-Files will likely return in early 2016. 
April 29th - Glen Morgan, Darin Morgan, and James Wong confirmed to return for The X-Files Revival.
May 2nd - Gillian Anderson attends Wizard World Minneapolis. 
May 11th - The X-Files gets a premiere date! Our two favorite FBI Agents will be back on January 24th, 2016.
May 12th - David and Gillian rock out on stage in New York City to celebrate the release of Hell or Highwater.
May 29th - It becomes official that William B. Davis will return as the Cigarette Smoking Man!
May 31st - Gillian Anderson attends Dallas Comic Con. 
June 4th - The X-Files is fully remastered into glorious high definition. 
June 8th - New episodes of The X-Files begin filming in Vancouver.
June 26th - Entertainment Weekly brings us the first look from the set of The X-Files.
July 4th - The X-Files Global Rewatch begins!
July 7th - The first new footage of Mulder and Scully is released!
July 8th - San Diego Comic Con begins, with a special X-Files scavenger hunt for excited fans to follow.
July 10th - XFN sits down with Frank Spotnitz to talk about his amazing new show The Man in the High Castle.
July 16th - The first official teaser airs during Wayward Pines on FOX.  
August 6th - The first full scene from the new series is screened at the TCAs.  
August 7th - Mama Scully is coming back! Sheila Larken is confirmed as returning to The X-Files.
August 11th - XFN breaks the news that Annabeth Gish will return as Monica Reyes.
September 10th - FOX announces that "My Struggle" will have its U.S. premiere at New York Comic Con in October.
September 12th - David Duchovny and Mitch Pileggi attend Wizard World Pittsburgh to the delight of thousands of X-Philes.
September 28th - FOX releases the first new trailer for The X-Files.
October 6th - The X-Files premiere screens at MIPCOM in Cannes, France.
October 9th - Frank Spotnitz attends the NYCC Comedy Party, proceeds benefitting Neurofibromatosis Network.
October 10th - "My Struggle" screens to a room of thousands of X-Files fans at New York Comic Con. 
October 10th - XFN is present in the X-Files press room following the NYCC screening.
October 13th - The Chris Carter birthday project comes to fruition with contributions from fans around the world.
October 29th - New key artwork is released from FOX.
November 24th - XFN drops the dot com and becomes XFiles.News with a fresh new look.
December 11th - "My Struggle" screens in Italy at Courmayeur Noir In Festival.
December 25th - The X-Files: Re-Opened special hits the internet, and the fandom has trouble breathing.
December 31st - The world didn't end. Yet. We make no promises for January 24th.
2015 was an incredible year! So much has happned in the last twelve months, that it's hard to believe that there is still even more awesome to come. It kind of felt like 2015 was the year of the Phile, so we can't wait to see what 2016 is like! 
Happy New Year, Philes! The best is yet to come.