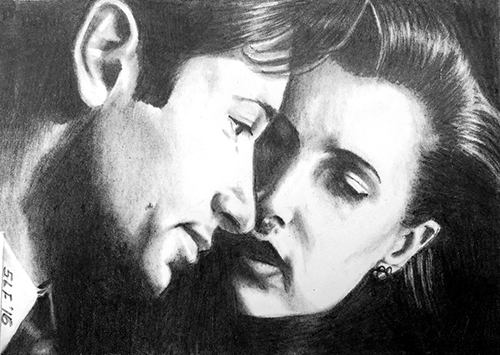 It's FanArt Wednesday again! This week's chosen artist is Suzanne Feld from Detroit, MI. You can connect with Suzanne on DeviantArt.
Hit the jump for a little bit about Suzanne.
When did you become an X-Phile?
2007. A friend recommended I watch the show on DVD as I had missed it first time around since I was raising 3 children by myself and working full-time.
What is the first episode you watched?
The pilot. I was instantly hooked.
What is your favorite part of the revival?
"Mulder and Scully Meet the Were-Monster." Darin Morgan really nailed all of the best things about the show in one great episode.
What inspired you to create X-Files fan art?
I've been drawing since I was old enough to hold a crayon, but have had several serious setbacks in my life and had stopped for many years. Then, when I saw the movie The X-Files: I Want to Believe, I really wanted to draw the bedroom scene. I decided to try it in 2011 and was absolutely thrilled that I could still draw after so many years. I haven't stopped since, though it's taken a lot of practice and more than a few bad drawings that have been trashed. I've discovered that I enjoy drawing in charcoal and graphite the most.
Who is your favorite character?
I simply can't choose between Mulder and Scully.
List your top 5 episodes.
1. "The Unnatural"
2. "Mulder & Scully Meet the Were-Monster"
3. "Small Potatoes"
4. "Je Souhaite"
5. "The Post-Modern Prometheus"
7. Favorite X-Files quote.
"Don't give up."
How has The X-Files impacted your life?
I fell in love with the characters of Mulder and Scully, the deep respect, admiration, and love they have for each other. They helped me realize that though I hadn't drawn or written for many years, it wasn't gone. The show has helped immensely with my depression by helping bring back my creativity, which was lost for a long time. I've also made some amazing friends and discovered great online communities. I run a Facebook group called "The X-Files Fanfic Writer's Guild" as well.
Thanks, Suzanne. Stay tuned for a new FanWorks writer next week.