I'm posting this blog on June 8th, 2015… when The X-Files Revival starts filming.
It took me a full hour to continue writing after I finished the previous sentence. The sheer amount of emotions and thoughts is quite overwhelming. I realize this may sound extremely silly to anyone not involved in this world.
I've wanted to write this blog for quite some time; for seven years, actually. I thought it would be easy, that I would be ready to write it, and I hope I'm ready now that it's time. But it isn't proving to be a piece of cake, nor a short blabber.
There's a reason why this is a blog and not an article… because this is what I, Avi Quijada, thinks about The X-Files coming back, the fandom, and the onslaught of reactions that we've gone through and that we're going to go through.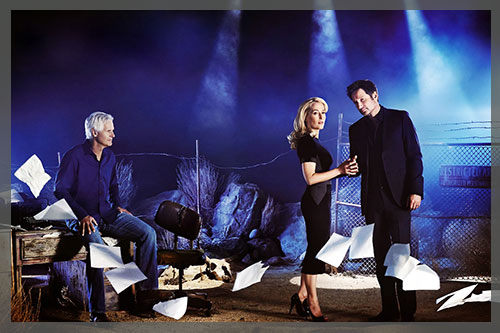 This is not news… this is just me, ranting. And please, do not take any of what I ramble about here as criticism, I love every single one of you, even if I haven't met you. If you're an X-Files fan it means that in some way you and I have something in common besides being a bag of blood with electromagnetic impulses going through us. But I digress.
When we set off to do whatever is it that we do at XFN, because lately describing it takes more than just a simple sentence, we knew that there would be a fair amount of work behind it all. Work from the people involved in making our wishes come true, more intricate work than many of us were able to understand when we started this road. Work from us, to support the cause, to have the patience that it would entail to comprehend this process. Work to understand this fandom, and to understand ourselves as time passed.
The byproduct of all of it is the unexpected experiences, friendships, families, love, sacrifice, many stamps on passports, and countless stories that we may or may never be able to share.
Faith… we just learned to have faith.
I think everyone that knows me is aware that I'm very honest about everything. So it is in the spirit of that honesty that I will share my opinion. It doesn't have to be your opinion, you don't have to subscribe to it; being a fan is a personal experience that transforms over time and grows with you.
Many of us have found ourselves growing tired, or more excited, maybe we see the experience under a different light, understand the show a different way, understand the fandom a different way... I find that my own evolution, standing in the spot where I stand, is one that I wouldn't have had if I hadn't joined this road. Being a fan is unique. It's more complex than the skewed view that outside onlookers may have. Being a fan is not for everyone.
As a fan in my position, and with my profession, I realized very early on that the real meaning of what we were fighting for was not black and white. For some it was really simple: We want more X-Files. But what does that even mean?
The first thing I understood was that if we were to ever be in this position, having more X-Files that is, was that they may not and, most likely, they will not please everyone. That ambition is futile. Having "more X-Files" because fans asked for them is not a simple task, because the show wasn't the same for every fan, it is so big that it allowed for complex interpretations, for dozens of niche followings and even more variations of what people thought their stories would be if this indeed were a universe that lived and breathed as any of us do. Expecting something like that would be the equivalent to expecting an answer to the truth about life, the universe and everything. Someone said it was 42, and what do you know? That's Fox Mulder's apartment number.
These characters are dear to our hearts; they've taught us, they've been with us through thick and thin, they've inspired other shows, they've inspired careers, pet names, books, ambitions… They became entities on their own. Whether it was for the work written on the page or seen on the screen, or because of the creative work put in by a lot of the fandom to create and expand on the universe created by Chris Carter and Co., Mulder and Scully and their quest - and everyone that participated in it - are the touchstone of many lives on this blue dot.
That sounds daunting for many of the people in the original production team, bashful out of humility most of the time… and to you guys, can I just say… "Guys... just own up to it." Your creations changed the world, and for the better.
Coming back to that first realization of this "goal"; because of the groundbreaking nature of these storylines and characters, it is easy for us as a fandom to allow our emotional attachment establish sets of expectations about what should or should not exist in those imagined realities. Having welcomed these characters so deeply into our lives, it put us in the position to not only make the fandom experience unique, but also to claim territoriality in the stories of these characters. This doesn't mean that anyone in the fandom is claiming actual ownership, but it surely seems like we feel that we have the right to "know what's best" for them.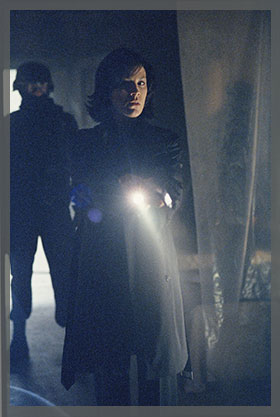 That very concept is intrinsic to the precipice we're standing on right now. We have more X-Files, but what X-Files will we have? The one I imagined? The one that twitter-noromos want? The one that tumblr-shippers desire? Which of the infinite permutations of Fanfiction.net and Ephemeral stories will they be similar to? Is it the Mythology fest that Facebook craves or the MOTW musts that the forums demand?
I've heard everything in the last seven years, especially in the last seven months, and expect to hear even more during the upcoming seven. Everything from: "I don't want more X-Files. I'd rather stay with what I know until season 7," to "I want this writer or the other because that one is a shipper (or a noromo)" - Complaints of them being together, or married, or separated, of not being in the FBI, or actually being in the FBI, the list goes on and on… and for every time that I hear a "cannot", "I won't watch if…", "they'll destroy my show when…", "I'll just ignore that these seasons ever happened and then…" For every one of those, for me it feels as if someone is telling me: I'd rather not live life if things don't go my way.
In the midst of it all, I always come back to the fact that I'm a writer; it took me my fair share of years to even allow myself to claim that title. It was because of The X-Files that I put myself under my very own strict set of rules. I didn't dare to even try and define myself as a writer until I fully understood what a writer does, what one must go through to write something half decent, and then to actually sit down and write it. I didn't call myself a writer until I had created something of my own, with characters I care for, and that when I close my eyes, they live and breathe and nag me to no end. I couldn't call myself a writer until I was the god of a universe where these characters and I had intimate conversations about the paths they would follow.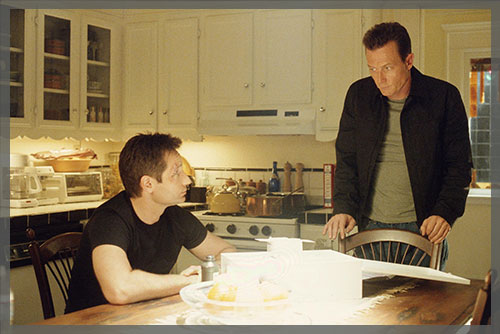 And that's what Chris Carter and everyone that was ever a part of that writer's room is. They are the gods of Mulder and Scully's universe. They're the ones that get to tap into the livewire of that intricate framework. They're the ones that despite perhaps not having gone into a philosophical essay about it, they have their DNA profile, that magic formula, living inside their own souls and minds. It's a special language that they know. Their voices, the true, original voices, are in their brains.
On a simple analysis, anything that we may have created, anything that we may think is best, anything that we may find an awesome challenge and a great reality to have Mulder and Scully play in, doesn't pass muster if it doesn't fit within that framework. It may sound cruel, or unfair, or even as a short-sale of our abilities to understand these characters… yes, I will give you that, but The X-Files, the real X-Files, the canon X-Files are the ones that come from that source or the ones that even when not created by Chris Carter, fit within the architecture of the world he created.
At some point along the line I asked myself, what if The X-Files happened without the people in that coveted group? The chance was always there. A reboot backed by FOX, that wouldn't see the need to have the original people involved. Hell, in the far future, way past the lifetimes of any of us, how can we declare that something is an authentic X-File if no-one (besides Scully) is immortal? Think about that.
Maybe we won't care, we won't be here to moan and scream that the red is not red enough, that the chick is not as smart as Scully, and looks nothing like Gillian Anderson, and that new Mulder, he's not monotone enough… oh my god… I'm giving myself an anxiety attack. The point is that that is also a situation that could have been the reality, and still could be. How do you live as a fan with that?
I suppose that the best analogy I have found for it was the same one I have for everyone that does a cover of a song I really like. It will never sound the same, it won't make me feel exactly the same, but perhaps, I might like it even better. This is the more complex analysis of this whole demand of "having more X-Files".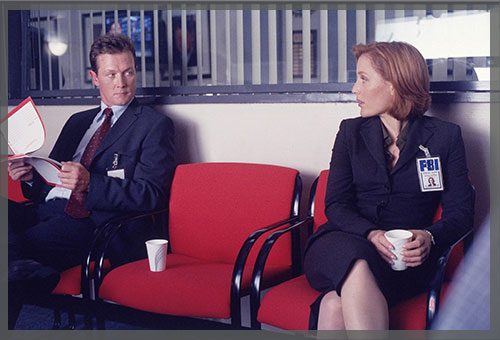 Some of what we imagine may end up on screen. Some will be accepting of that, some won't. Some people will say "that shouldn't happen to them, how dare they??", some will understand that writing is not about picket fences and "should haves" and happy endings. What makes a story connect with the audience is the ability that it has to take us on a long roller coaster of emotions, landing us on a finish line that lets us ride the adrenaline out of our system, but leaves us craving to do it again. Don't like rollercoasters? Then, remember the last time you had an orgasm.
Time has passed. Characters, just like people… they change. So do the gods. I am not the same that seven years ago, along with the younger versions of Tiffany Devol, Samantha Jeschonek, Rebecca Welch and Jessa Schlitt eagerly agreed in the back room of Casey's that we would take on this road until "something" happened. If we can change, and they can change, why can't these characters? Nothing we set up for at XFN went as expected. We grew bigger, differently, easier, harder, more challenging, less and more rewarding at the same time. If our goals changed and adapted, why can't these evolve as well? Surprise is the one element that kept us at the edge of our seats, always proving that there was something to learn from that change. What did Mulder and Scully need to learn from having it difficult? Is it worth riding the ride if what's coming is just smooth sailing?
So back to today. To the old fan, I ask you this, and be honest with yourself: did you love the writers much when Scully got cancer? Or when they waited seven years to let them be together? Did you love them when they got them together? Did you love them when Scully got kidnapped? When Mulder lost his mom? When Mulder learned CSM was his father? No, no, nope, nada, nah-ah. Nope, you didn't… There are shirts that say "Victimized by Chris Carter since 1993" - I've seen them. He's seen them. These are two of the most tortured characters in the history of television, yet… you love The X-Files. We're either masochistic, or some part of us can identify that what makes good drama. That thing that's the perfect mix of awesome story, human fiber, and that mysterious balance of emotional magic that we can all relate to. Everything drives to an ending that can be satisfying to some, or not, that may leave behind a reward, or not, but such is life. Do you live for the road or for the finish line? For the tease, or the stars behind the eyes?
From here on, there will be much angsting, I'm sure. And I won't tell you not to worry, or I'll try. The fact that you do tells me that you care and speaks to the level of your investment. And really, I couldn't have asked to be part of a better fandom, surrounded by such talented and creative people every day. I encourage you to live your personal road as a fan the way that you wish, as have I, even when we may not agree on everything. The only thing that I would kindly submit for your consideration is that you trust yourself, and on the way to that… trust the gods that you once loved, the ones that made you proudly declare yourself an X-Phile. Don't fear the what if's. Embrace the unexpected, and welcome the unknown.